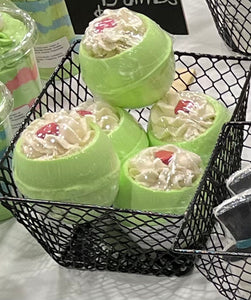 Our Grinch bath bombs are the perfect gift for Christmas!! Green like the Grinch with a dollop of cream and a tiny red heart.  They smell so good! 
Bath Bomb Ingredients: Baking Soda, Citric Acid, Cream of Tartar, Arrowroot Powder, SLSA, Buttermilk Powder, Distilled Water, Apricot Kernel Oil, Fragrance Oil, Alcohol, Polysorbate 80
This listing is for one bath bomb.
Net Wt: 7 oz