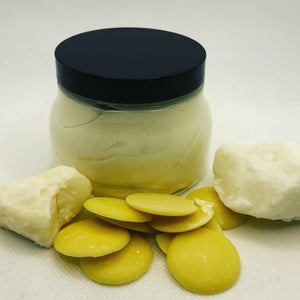 Description
Do you have dry skin?  Are you tired of lotions that take too long to dry on your hands?  Our Escape with Me body cream is the perfect product to moisturize your skin using natural plant-based ingredients.  It has a fruity floral fragrance with notes of chamomile, apple, mandarin, jasmine, rose, plum, peach, musk and sandalwood.
How To Use
Use your fingers to apply a small amount to your skin.  A little bit goes a long way, but put the amount you think is best based on your skin type.  Keep it on the nightstand by your bed, in your bathroom, or your desk at work.  Please keep body cream in an area where it is cooler or at room temperature.  Do not leave outside or in your car since the ingredients will melt if subjected to higher heat temperatures.  
Ingredients
Shea Butter, Mango Butter, Coconut Oil, Cocoa Butter, Organic Golden Jojoba Oil, Vitamin E Oil, Fragrance, and Arrowroot
This listing is for one jar.
Net Wt: 8 oz/227 g
Awesome
This body cream is awesome. It is smooth with a great feel to your body, will be ordering again.