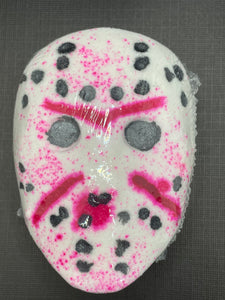 Our Jason bath bombs are too scary!  Each bath bomb is hand pressed and hand painted!  Scented in Bite Me with top notes of black cherry, orange, strawberry, pineapple, lime; middle notes of eucalyptus, violet, lily; and base notes of clove and vanilla bean.  They bleed from the inside out in the bathtub!
Bath Bomb Ingredients: Baking Soda, Citric Acid, Cream of Tartar, Arrowroot Powder, SLSA, Buttermilk Powder, Distilled Water, Apricot Kernel Oil, Fragrance Oil, Alcohol, Polysorbate 80

This listing is for one bath bomb.
Net Wt: 3.25 oz